The mangrove sinseol is a large coliving building where diverse neighbors live in Dongdaemun-gu, Seoul – a neighborhood known for its convenient public transportation. From the coworking lounge to the fitness room, there are more than 20 colorful common spaces to explore.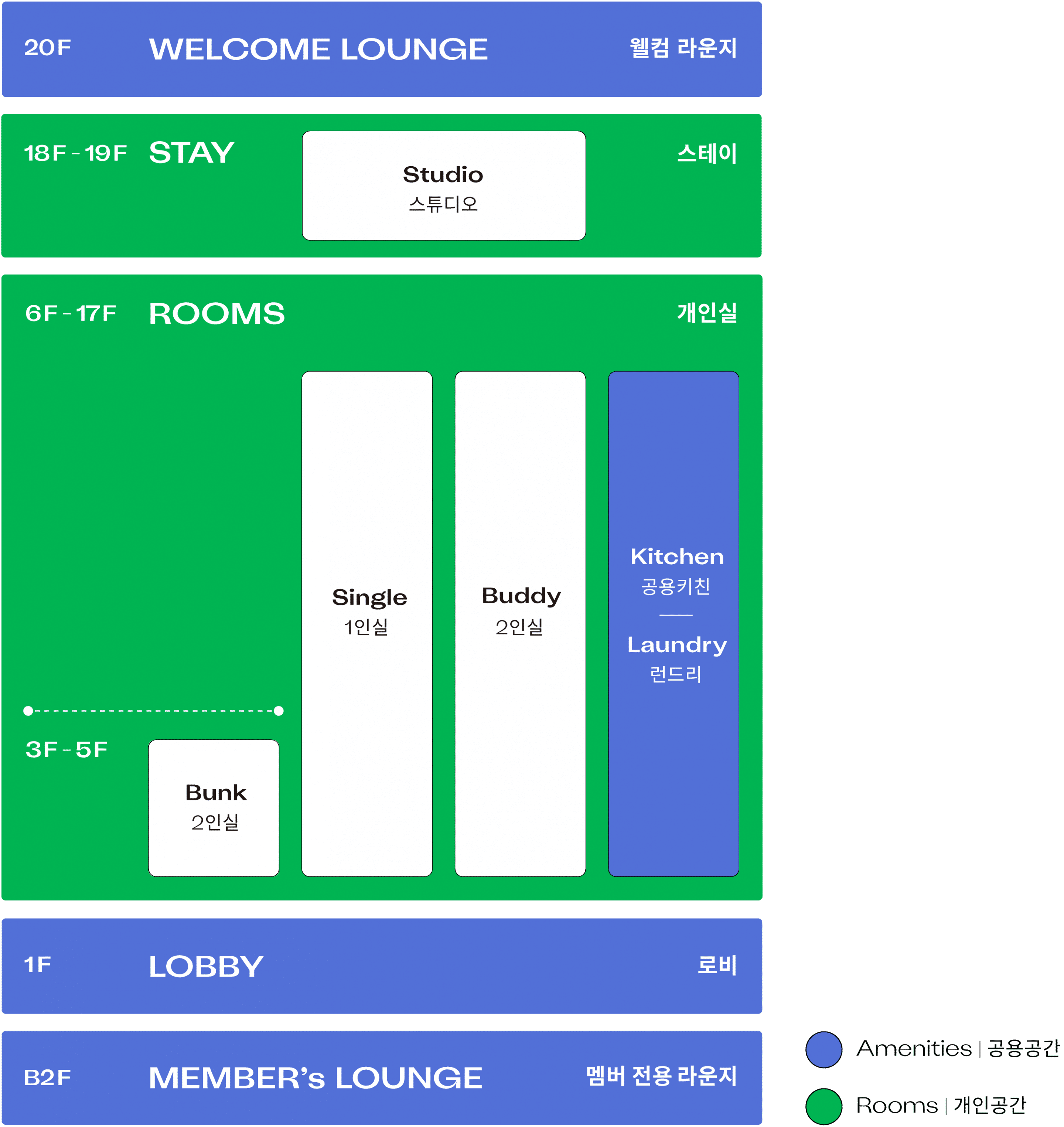 The mangrove sinseol is a 20-story high-rise building that offers a member's lounge alongside a variety of amenities on the top and bottom floors. The middle floors consist of private rooms and essential amenities that help facilitate everyday life.
| | |
| --- | --- |
| Bowl Shop <Soil> | Healthy meals and casual dining |
| Cafe <Sorrynotsorry> | Cafe for the daily lives of millennials |
| Co-Working Lounge | Coworking lounge is opened 24 hours a day |
| Library | Promotes intense and deep inspiration |
| Mangrove Store | Mangrove's eco-friendly store |
| Kitchen (3 Types) | Three kitchens for three different cooking styles |
| Relax Room | Private yoga room, all to yourself |
| Flex Room | Fitness room for daily exercise |
| Cinema Room | A comfortable movie theatre with a large screen |
| Creator's Room | Workspace for creators |
| Rooftop Terrace | Rooftop terrace with a view of Seoul |
| Laundry | Large-capacity washers and dryers |
*What's Included
| | |
| --- | --- |
| Furniture | Desk, chair, bed, wardrobe, storage cabinet |
| Facility | AC unit for heating and cooling, mini-refrigerator |
| Accessory | Mattress, curtain, bed lamp |
SINGLE
Single room
Private bathroom
Starts at ₩798,000 *month with ₩3,000,000 deposit
BUDDY
Double room
Private bathroom, bathtub
Starts at ₩520,000(1 person) *month with ₩3,000,000 deposit
BUNK
Double room
Private bathroom, bathtub
Starts at ₩490,000(1 person) *month with ₩3,000,000 deposit
The monthly fees for the rooms in the mangrove sinseol include various utility charges, administrative fees, and VAT.
The price may vary depending on the types of rooms and contract terms. Please register for a tour for more information!
*What's Included
| | |
| --- | --- |
| Furniture | Desk, chair, bed, closet, cabinet, couch, table |
| Facility | AC unit for heating and cooling, mini-refrigerator |
Studio S
1-2 person room
Twin or double bed
Private bathroom
78,000 ~ 122,000 won / per night
Studio M
Double room
Twin or double bed
Private bathroom with a bathtub
86,000 ~ 130,000 won / per night
Studio L
Double room
Twin or double bed
Private bathroom with a bathtub
120,000 ~ 170,000 won / per night
Pricing can be confirmed on the Reservation page.
Sinseol-dong is a modernized neighborhood within Seoul that maintains a fun and engaging atmosphere. Traditional markets and restaurants line the streets, radiating a unique and lively feel. The subway station and various bus lines are a 1-minute walk from the mangrove building, providing excellent access to central Seoul.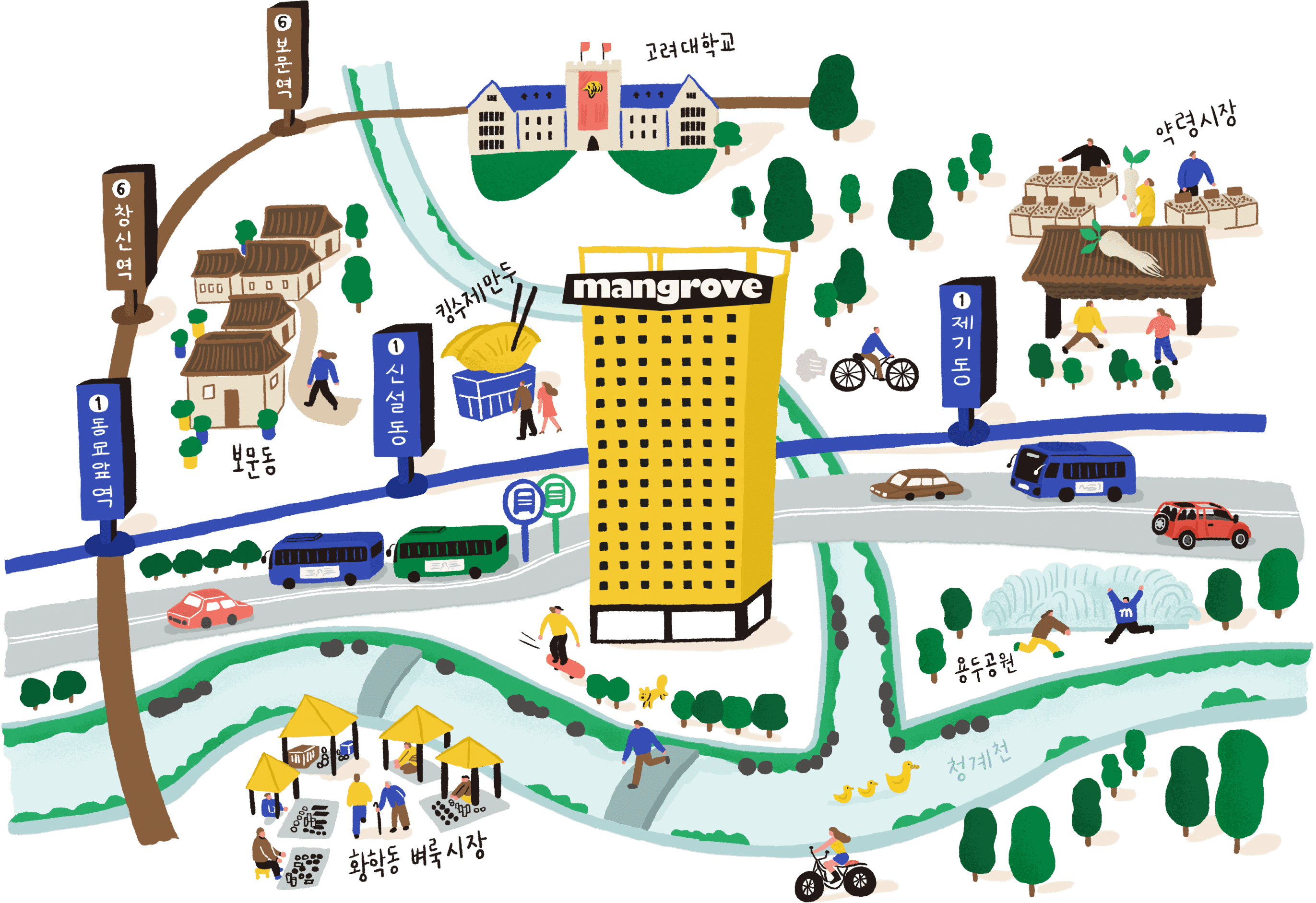 Location
City Hall, Jongno within 20 minutes
Shinseol-dong Station (Lines 1 and 2) 1-minute walking distance
Adjacent to 6 universities, including Korea University and Sungshin Women's University
Infrastructure
Abundant shops for convenient living, such as convenience stores, grocery stores, and cafes
1-minute walking distance to Sinseol Police Station
3 public libraries nearby
10-minute walking distance to Cheonggyecheon
Address. 98-24, Sinseol-dong, Dongdaemun-gu, Seoul
1. What are the services provided after move-in?
After you move in, you can use the [mangrove APP]. The app allows you to apply for the social club and services and make inquiries related to residency.
2. Can I invite guests?
The mangrove allows guest visitors. We do have restrictions designed to maintain all guests' comfort. We limit the visiting hours and record the arrival and departure of each guest visitor. Guest visits can be booked through the mangrove APP.
3. Is parking available?
24/7 free parking is not available at mangrove sinseol. However, there is a paid parking lot within the building along with private parking lots nearby.
4. Are pets allowed?
Currently, pets are not allowed. However, we plan on opening a branch that is pet-friendly.
5. Can I bring my own furniture or appliances to my residence?
Electronics that pose a fire risk – items such as electric stoves, electric blankets, electric heaters, etc. – are prohibited. Other types of furniture and home appliances are permitted. However, original furniture provided by mangrove cannot be stored outside the private room.
Contract-signing and moving in
1. I applied for a move-in consultation. What happens next?
After being consulted on your ideal type of residence, price, and length of stay, you can begin your moving process. You will fill out a rental agreement with the assistance of our community team. Your move in process is complete once you receive instructions for moving in. Following our consultation, you can complete an online contract without having to revisit.
2. Is it possible to move in without the move-in consultation?
We strongly recommend a move-in consultation, as well as carefully checking the space and facilities before making a final decision.
3. Can I do a trial stay at the mangrove before making a decision?
Yes, the sinseol branch offers a 'Stay' option, which allows potential residents to try a temporary stay with a minimum stay of 1 night. Even on a short stay, residents will have access to the mangrove's common spaces and social clubs.
4. How much is the deposit? Is it possible to adjust the deposit or convert the rental to a long-term stay with a lump-sum deposit?
The deposit is fixed at ₩3,000,000. Unfortunately, adjustment or conversion to another type of rental is not possible at this time.
5. How much is the maintenance fee?
The monthly fees at the mangrove sinseol include all maintenance and utility bills. There is no additional maintenance fee.
6. How do I pay the monthly fee?
On the first day of each month, you pay a fixed monthly fee for that month via automatic payment through your bank account or credit card.
7. Is there a penalty for moving out earlier than specified in the contract?
Yes, there is a penalty. The amount varies depending on the contract period and actual length of residence. The penalty will be the difference between the contracted monthly fee and the actual monthly fee.