Mangrove Soongin is located in a friendly neighborhood within the heart of Seoul. It accommodates up to 24 persons and offers carefully designed private rooms and enough shared amenities that enable residents to experience a comfortable stay along with a close-knit community.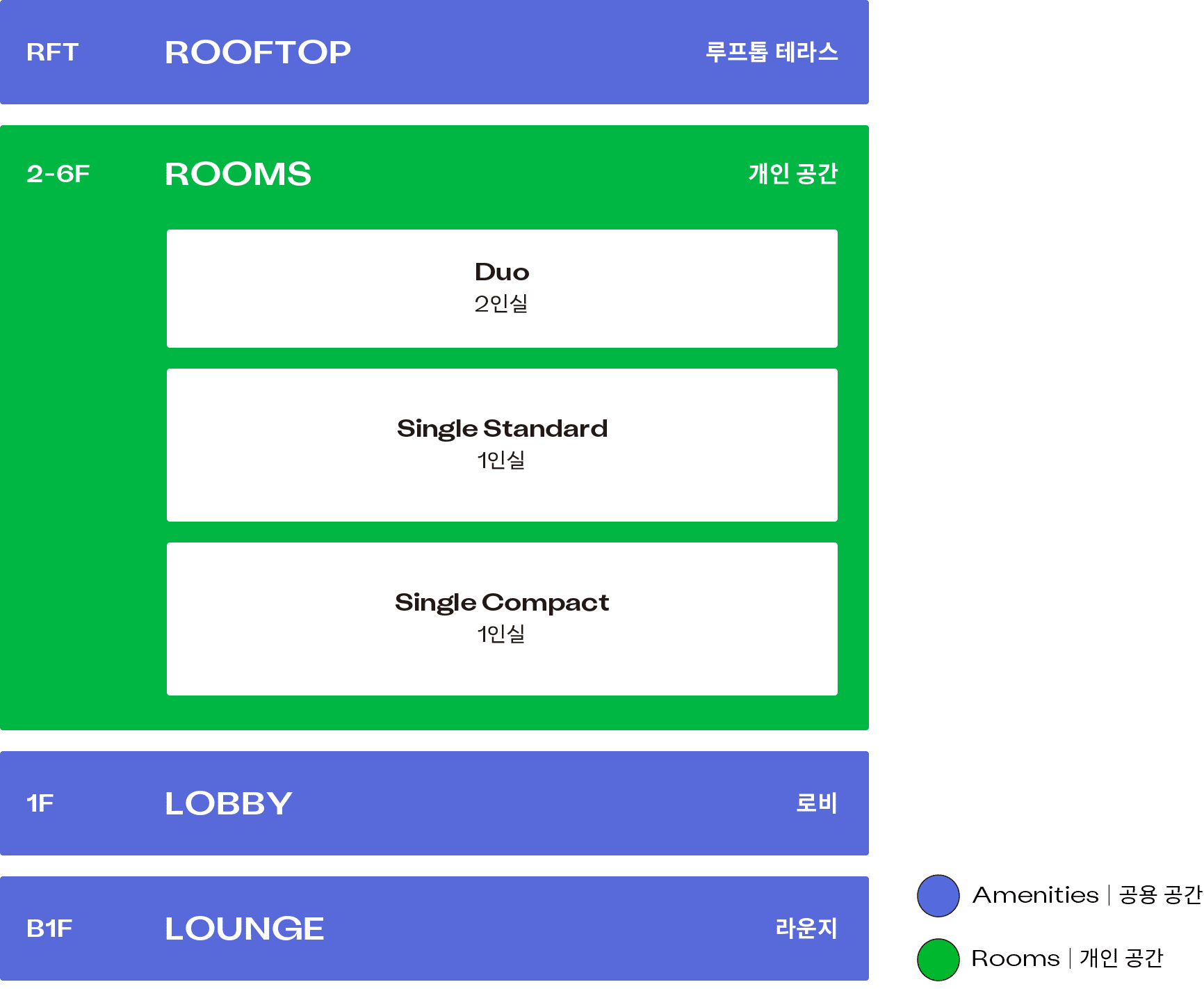 Mangrove Soongin consists of six floors, 10 different shared spaces, and 23 private rooms.
| | |
| --- | --- |
| Co-Working Lounge | A co-working space where you can work or study 24/7 |
| Library | A curated library that will bring you inspiration and food for thought |
| Kitchen | Spacious communal kitchen with various cooking utensils |
| Lounge | Cozy lounge space with TV and sofa for members to relax |
| Rooftop Terrace | Rooftop terrace with a view of Naksan mountain |
| Flex Room | Private gym for healthier daily life |
| Relax Room | Private yoga/meditation room |
| Laundry | 24-hour self laundry room with washers and dryers |
| Locker | Private storage space for large-sized luggages |
*What's Included
| | |
| --- | --- |
| Furniture | Desk, Chair, Bed, Closet, Storage Cabinet |
| Facility | Air Conditioner/Heater, Air Filter, Mini Refrigerator |
| Accessory | Mattress, Curtains, Pendant Light |
Single Compact
1 person room
Private bathroom sink, shared bathroom and shower(3 persons)
Monthly rate 550,000 won~ *3,000,000 won deposit
Single Standard
1 person room
Private bathroom sink, shower, and bathroom
Monthly rate 630,000 won~ *3,000,000 won deposit
Duo
2 persons room
Private bathroom sink, shower, and bathroom
Monthly rate 590,000 won~ (per person) *3,000,000 won deposit
* Monthly rates in Mangrove Soongin do not include utility bills and maintenance fees.
* The price may vary depending on the types of rooms and contract terms. Register for a tour for more information!
Soongin-dong is a cozy neighborhood with a friendly atmosphere surrounded by traditional houses, parks, and Naksan mountain. It is also close to the centeral Seoul and offers convenient public transportation, making it ideal for an urban life.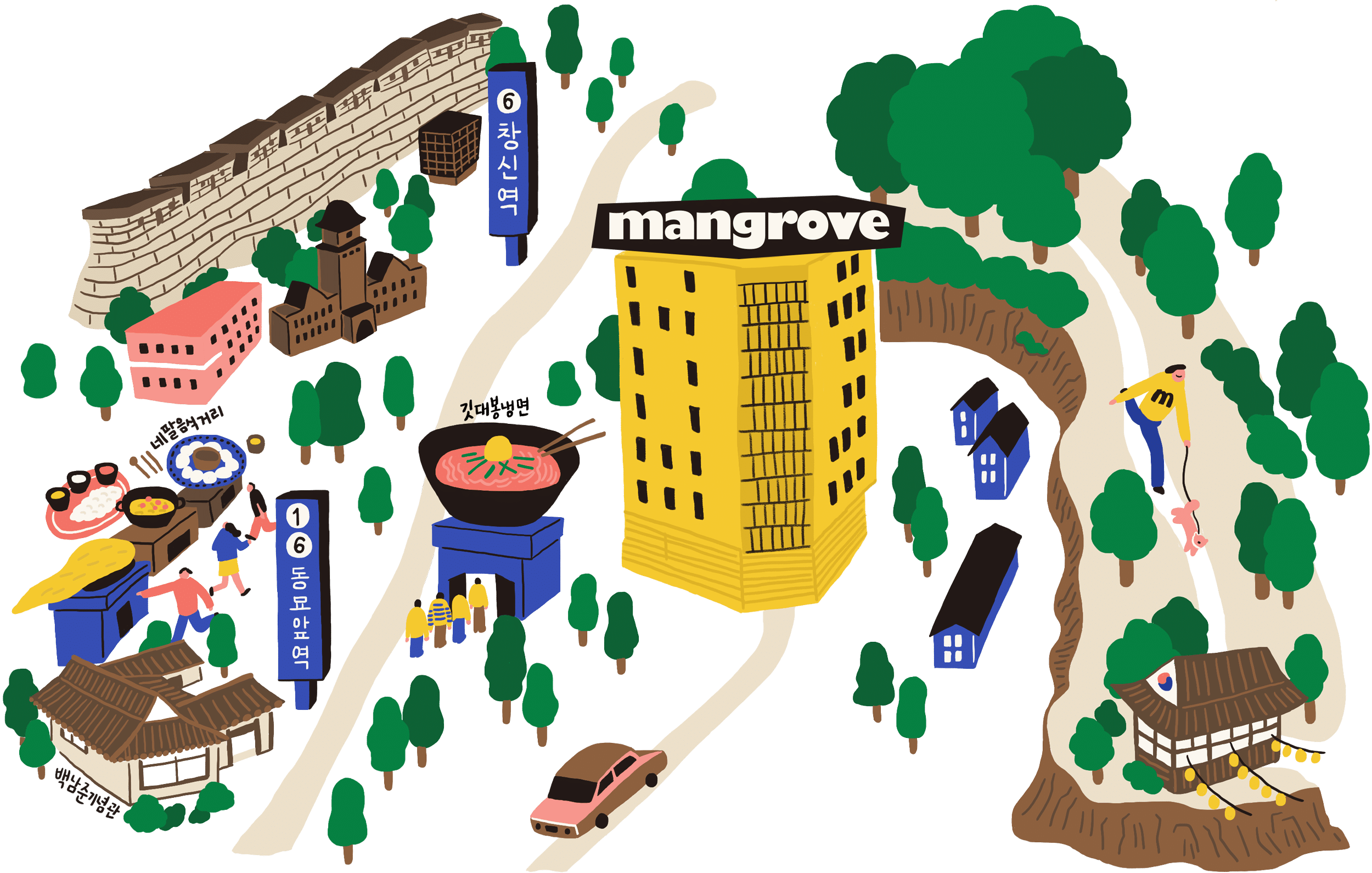 Location
Hyehwa, Dongdaemun, and Jongno within 20 minutes
4 minutes from Changsin Station(Line 6), 7 minutes from Dongmyo(Line 1,6)
Adjacent to 6 universities, including Korea University and Sungshin Women's University
Infrastructure
Abundant shops for convenient living, such as convenience stores, grocery stores, and cafes
2 minutes from Hyehwa Police Station
2 minutes from Soongin Maru Library
2 minutes from Soongin Neighborhood Park
Address. 17, Jibong-ro 12-gil, Jongno-gu, Seoul
1. How do I apply for the mangrove Social Club and other services as a resident?
Once you move in, you can use the [mangrove APP]. The app allows you to apply for the social club and services and make inquiries related to the residency.
2. Can I invite guests?
The mangrove allows guest visitors. We do have restrictions designed to maintain all guests' comfort. We limit the visiting hours and record the arrival and departure of each guest visitor. Guest visits can be booked through the mangrove APP.
3. Is parking available?
24/7 free parking is not available. We suggest that you use a private parking lot nearby.
4. Are pets allowed?
Currently, pets are not allowed. However, we plan on opening a branch that is pet-friendly.
5. Can I bring my own furniture or appliances to my residence?
Electronics that pose a fire risk – items such as electric stoves, electric blankets, electric heaters, etc. – are prohibited. Other types of furniture and home appliances are permitted. However, original furniture provided by mangrove cannot be stored outside the private room.
1. I applied for a move-in consultation. What happens next?
After being consulted on your ideal type of residence, price, and length of stay, you can begin your moving process. You will fill out a rental agreement with the assistance of our community team. Your move in process is complete once you receive instructions for moving in. Following our consultation, you can complete an online contract without having to revisit.
2. Is it possible to move in without the move-in consultation?
We strongly recommend a move-in consultation, as well as carefully checking the space and facilities before making a final decision.
3. How much is the deposit? Is it possible to adjust the deposit or convert the rental to a long-term stay with a lump-sum deposit?
How much is the deposit? Is it possible to adjust the deposit or convert the rental to a long-term stay with a lump-sum deposit?
4. How much is the maintenance fee?
The 'aggregate maintenance fee,' which includes regular maintenance and utility bills, is set for ₩100,000/month.
5. How do I pay the monthly fee?
On the first day of each month, you pay a fixed monthly fee in advance via automatic payment.
6. Is it possible to do an official change of address?
7. Is there a penalty for moving out earlier than specified in the contract?
It depends on the contracted length of stay. There is no penalty for a 6-month contract, but the discounted amount would incur the penalty if you signed a 12-month contract with a discount.