Mangrove Dongdaemun is a large-scale coliving house located in the center of Dongdaemun, a location with diverse cultural infra and convenient public transportation. You can stay for as long as you please while enjoying all of the many communal spaces.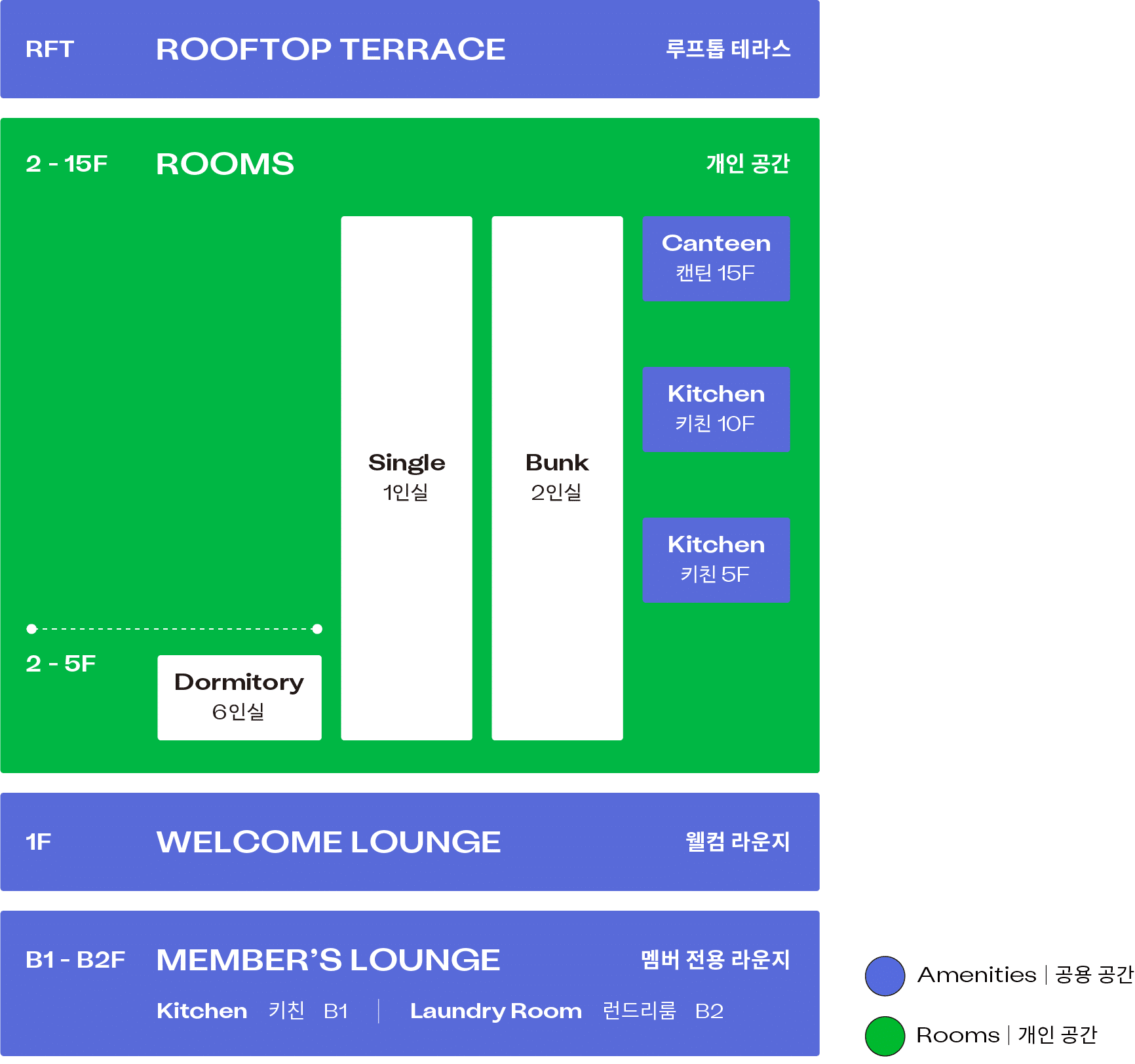 Mangrove Dongdaemun is a 15-story building with 177 separate units and Stay rooms for short-term usage. The first story consists of a welcome lounge, the community desk and a cafe. The two basement stories are filled with an assortment of communal spaces.
| | |
| --- | --- |
| Cafe Lounge | Enjoy coffee and dessert with member discount benefits in the hip lounge |
| Mangrove Store | A convenience store filled with diverse necessities and fun goods |
| Work Station | A 24-hour co-working space where you can focus on your work or studies |
| Library | A curated library that will bring you inspiration and food for thought |
| Community Room | A meeting room for small meetings and gatherings that you can reserve in advance |
| Cinema Room | A home cinema equipped with a large screen and high-quality sound system |
| Flex Room | A members-only fitness room packed with professional training equipment |
| Relax Room | A meditation and yoga room you can reserve and enjoy privately |
| Kitchen & Canteen | All of three types of communal kitchens including a spacious city-view canteen |
| Laundry Room | A 24-hour free-of-charge laundry room with wash towers including both washing machines and dryers |
| Rooftop Terrace | A rooftop terrace where you can take a breather in the middle of the city |
*What's Included
| | |
| --- | --- |
| Furniture | Desk, Chair, Bed, Closet, Storage Cabinet, Shoe Shelf |
| Facility | Air Conditioner/Heater, Mini Refrigerator, WIFI |
| Accessory | Mattress, Curtains, Lighting |
Single
1 person room
Private bathroom
Monthly rate 890,000 won~ *3,000,000 won deposit

Bunk
2 persons room
Private bathroom
Monthly rate 540,000 won~ (per person) *2,000,000 won deposit
Dormitory
6 persons room
Two private bathrooms *Mini refrigerator not included
Monthly rate 390,000 won~ (per person) *1,000,000 won deposit
* Monthly rates in Mangrove Dongdaemun all include utility bills and maintenance fees.
* The price may vary depending on the types of rooms and contract terms. Register for a tour for more information!
*What's Included
| | |
| --- | --- |
| Furniture | Desk, Chair, Bed, Closet, Storage Cabinet, Shoe Shelf |
| Facility | Air Conditioner/Heater, Mini Refrigerator, WIFI |
| Accessory | Mattress, Curtains, Lighting |
Mangrove Stay provides short-term housing from a day to a month.
Stay Single
1 person room
Single bed
Private bathroom
85,000 won~ per night
Stay Bunk
2 persons room
Bunk bed
Private bathroom
85,000 won~ per night
Stay Dormitory
6 persons room
Bunk bed
Two private bathrooms
35,000 won~ per night
* Please refer to the reservation page for further information regarding price.
Gwanghui-dong is a transportation hub with triple access to subway lines 2, 4, and 5 as well as local and city bus stops. It is a neighborhood that boasts diversity with all sorts of cultural and historical landmarks including famous traditional markets, a fashion street, DDP and more.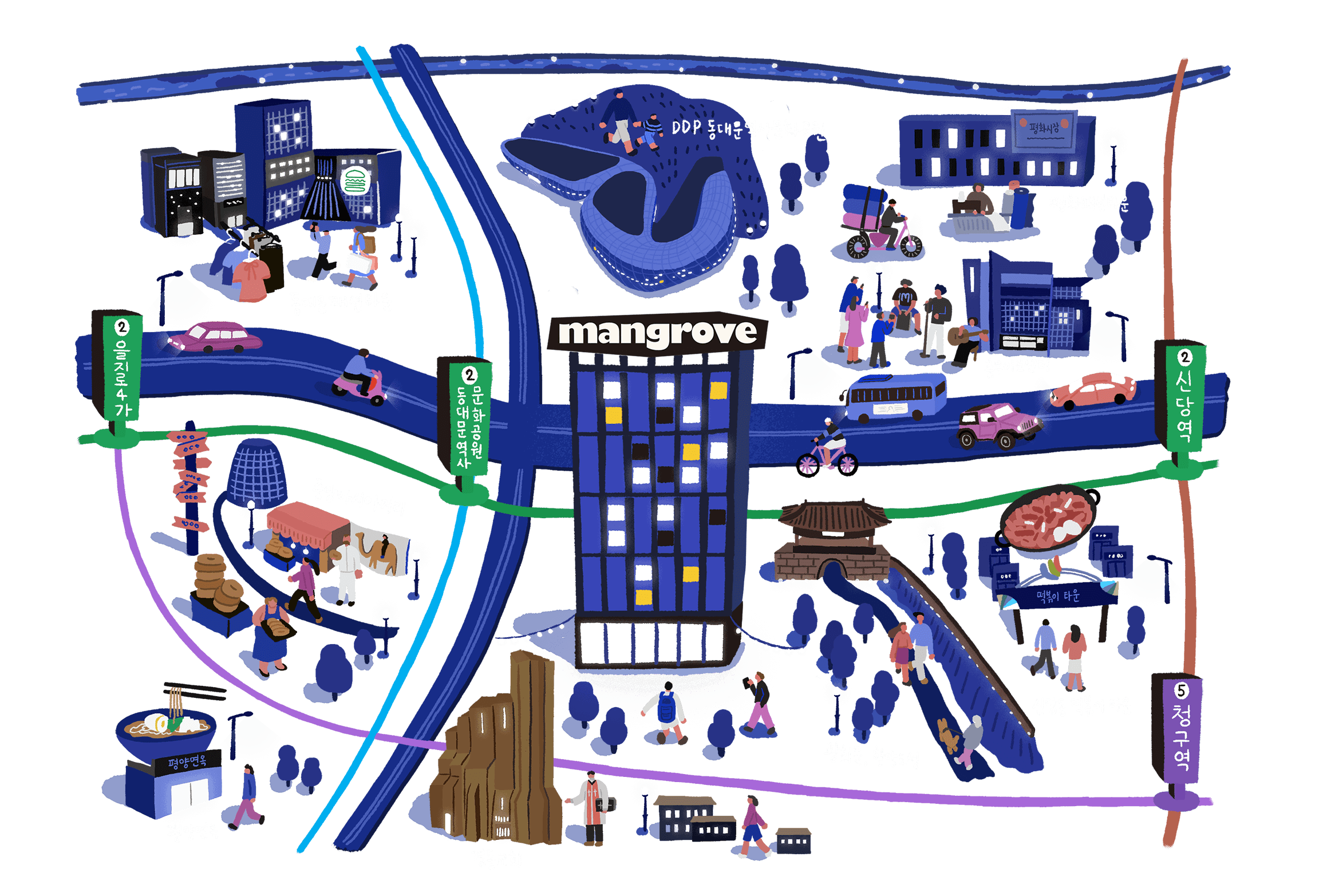 Location
City Hall, Jongro, and Myeongdong within 20 minutes
3 minutes walk to Dongdaemun History and Culture Park Station(Line 2,4,5)
Adjacent to Dongdaemun History and Culture Park(DDP)
Infrastructure
Traditional markets, convenience stores, cafes, and an abundance of community facilities
10 minutes walk to the management office and post office
20 minutes from Cheonggyecheon
Address. 334, Toegye-ro, Jung-gu, Seoul
1. Can I invite guests?
Please register your guests via the Mangrove app. Guests are allowed as long as there's no harm inflicted to the other residents. But visiting hours may be restricted.
2. Can I register for regular parking?
Mangrove Dongdaemun does not provide registered parking. Please use other proximate private parking lots with monthly registrations.
3. Can I bring my pet?
Unfortunately, move-in with pets is currently unavailable. Mangrove will strive to become a space where residents can use the space with pets in harmony.
4. Can I add furniture in the room?
Additional furniture is permitted on the grounds of maintaining the existing provided furniture. Please take note that Mangrove does not hold storage space for furniture that is not used. In terms of electronics, electrically-heated items such as electric heaters or electric heating blankets are not permitted to prevent fire hazards.
5. What can I do using the Mangrove app?
You can sign up for the Mangrove Social Club and reserve communal spaces using the app. You can also receive community team guidelines and leave inquiries regarding the Mangrove life.
6. Is there parking space for bicycles?
Unfortunately there is no space for bicycle parking.
1. I signed up for a tour. I want to know about the process after.
Upon your arrival for the tour, you will be asked about your desired room type, budget, and duration of usage. Please make your decision with the help of your sales manager. Afterwards, we will sign the contract and you will receive guidelines according to your move-in date. The contract signing is completed online so you do not need to make another visit post the tour consultation.
2. Can I move in without a tour?
Tour consultations are mandatory before signing the contract. The offline tour allows you to really experience the space and make a more solid decision.
3. Can I try Mangrove out before I decide to move in?
Try out the Mangrove Stay program which you can use for a night. You will have access to the diverse communal spaces as well as the community.
4. What's the deposit system? Is it negotiable?
The deposit varies depending on the room type and contract duration. Unfortunately the deposit is currently nonnegotiable.
5. How much do I pay for management?
The monthly rate at Mangrove Dongdaemun includes all management fees and utility bills. There are no additional expenses.
6. How do I make my monthly payment?
On the first day of each month, you will make a monthly payment via automatic wiring in advance.
7. Can I make a move-in notification?
Move-in notifications are not possible at Mangrove Dongdaemun. Please make sure to check your contract.
8. If I happen to be unable to stay for the entire duration I promised, is there a penalty?
If you have to move out before your contract expires, you will have to pay a penalty. The penalty charged varies depending on your duration of stay. Additionally, if you receive conditional discount benefits, you will have to pay the difference for the remaining months.
9. Can I move in on the day of the tour consultation and contract signing?
Moving in on the day of the tour is not possible. To provide stellar conditions, Mangrove Dongdaemun needs time for the room to be cleaned and equipped before move-in. Please select a reasonable date of tour consultation after considering your desired move-in date.
10. What forms must I bring to the contract signing?
You must bring a document of identification. In the case of foreigner or corporate contracts, your sales manager will notify you of the additional forms necessary.