The mangrove soongin is a coliving building where 24 units of residents live in a friendly neighborhood in the heart of Seoul. Carefully designed private rooms and large shared spaces enable residents to enjoy a comfortable living and an intimate sense of community.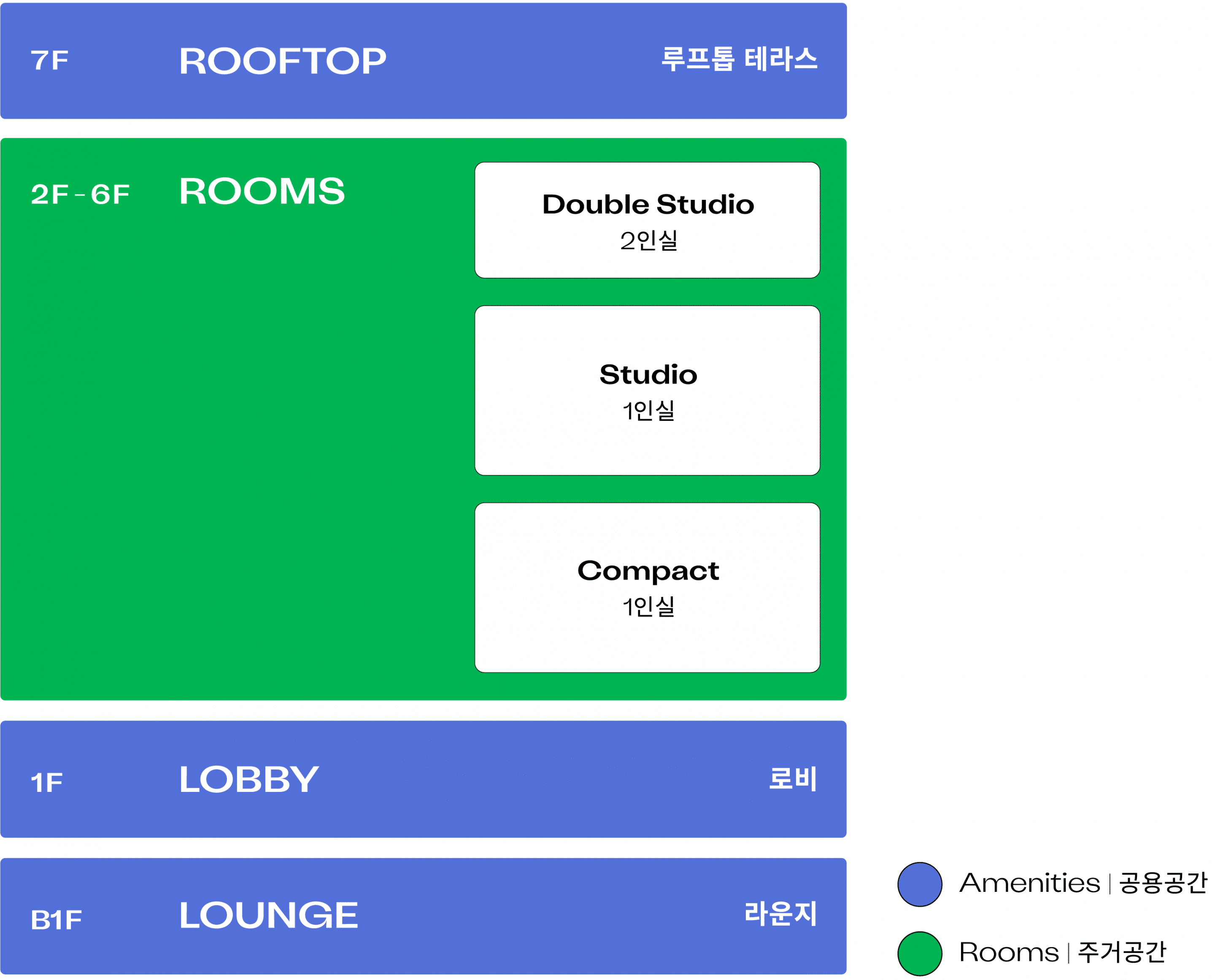 The mangrove soongin consists of six floors, 10 different shared spaces, and 24 private rooms.
| | |
| --- | --- |
| Cafe <Sorrynotsorry> | Cafe for the daily lives of millennials |
| Co-Working Lounge | Coworking lounge open 24 hours a day |
| Library | mangrove book collection updated monthly |
| Kitchen | Spacious common kitchen with a wide variety of cooking tools |
| Lounge | Cozy lounge with TV and sofa |
| Rooftop Terrace | Rooftop terrace with a view of Naksan |
| Flex Room | Personal gym for private use |
| Relax Room | Private yoga room, meditation room |
| Laundry | 24-hour laundry room with complimentary washers & dryers |
| Locker | Private storage |
*What's Included
| | |
| --- | --- |
| Furniture | Desk, chair, bed, wardrobe, cabinet |
| Facility | AC unit for heating and cooling, air filter, mini-refrigerator |
| Accessory | Mattress, pillow, curtain, pendant light |
Compact
Single room
Private bathroom sink / shared bathroom and shower (3 persons)
Starts at ₩550,000 *month with ₩3,000,000 deposit. Does not include a maintenance fee.
Studio
Single room
Private bathroom sink, shower and bathroom
Starts at ₩630,000 *month with ₩3,000,000 deposit. Does not include a maintenance fee.
Double Studio
Double room
Private bathroom sink, shower and bathroom
Starts at ₩590,000 *month with ₩3,000,000 deposit. Does not include a maintenance fee.
Neighborhood
Getting familiar with the area
Soongin-dong is a cozy and friendly neighborhood surrounded by old houses, parks, and Naksan. At the same time, it is close to the center of Seoul and has convenient public transportation, making it ideal for urban life.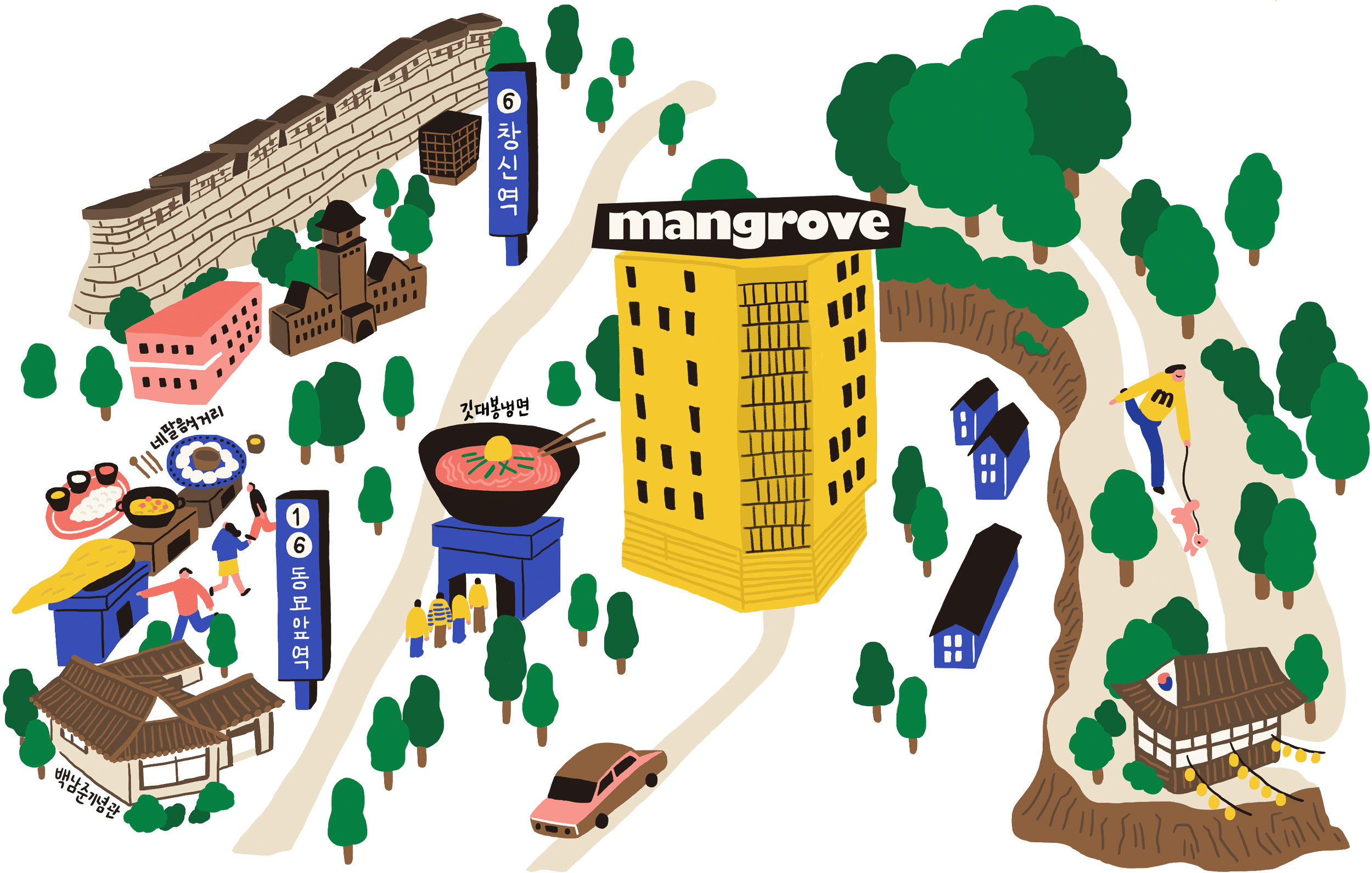 Location
Hyehwa, Dongdaemun, and Jongno within 20 minutes
4-minute walking distance from Changsin Station (Line 6), 7 minutes to Dongmyo (Line 1, 6)
Adjacent to 6 universities, including Korea University and Sungshin Women's University
Infrastructure
Abundant shops for convenient living, such as convenience stores, grocery stores, and cafes
Hyehwa Police Station 2-minute walking distance away
2-minute walking distance from Sungin Maru Library
2-minute walking distance from Sungin Neighborhood Park
Spots
Tertre – cafe where you can see all of Seoul at a glance
Mosaic – vinyl record shop
Everest – authentic Nepalese restaurant
Dongmyomun – trendy bar serving Chinese cuisine and drinks
Gitdaebong Noodle – Changsin-dong spicy naengmyeon restaurant
Vintage Heaven, Dongmyo flea market
Address. 56-53, Sungin-dong, Jongno-gu, Seoul
1. How do I apply for mangrove Social Club and other services as a resident?
Once you move in, you can use the [mangrove APP]. The app enables you to apply for the social club and services and make inquiries related to the residency.
2. Can I invite guests?
The mangrove allows guest visits. We do have restrictions designed to protect everyone's comfort. We limit the visiting hours and record the arrival and departure of each guest. Guest visits can be booked through the mangrove APP.
3. Is parking available?
Parking is difficult within the building. We suggest that you use the private parking lot nearby.
4. Are pets allowed?
Unfortunately, pets are not allowed at this time. Keep an eye on us, however, because we are preparing a branch that will.
5. Can I bring my own furniture or appliances to my residence?
Electronics that pose a fire risk – things like electric stoves, electric blankets, electric heaters, etc. – are not allowed. Other types of furniture and home appliances are. However, furniture originally provided for private rooms cannot be stored somewhere else.
Signing a contract and moving in
1. I applied for the move-in consultation. What happens next?
You can make a decision after you are consulted on the type of residence, price, and length of stay. You then fill out a rental agreement with the assistance of the community team. The process is completed when you receive instructions for moving in. After the consultation, you can complete the contract online without having to revisit.
2. Is it possible to move in without the move-in consultation?
We strongly recommend move-in consultation, as well as carefully checking the space and facilities before making a decision.
3. How much is the deposit? Is it possible to adjust the deposit or convert the rental to a long-term stay with a lump-sum deposit?
The deposit is fixed at ₩3,000,000. Unfortunately, adjustment or conversion to another type of rental is not possible at this time.
4. How much is the maintenance fee?
The 'aggregate maintenance fee,' which includes regular maintenance and utility bills, is set for ₩100,000/month.
5. How do I pay the monthly fee?
On the first day of each month, you pay a fixed monthly fee in advance via automatic payment.
6. Is it possible to do an official change of address?
7. Is there a penalty for moving out earlier than specified in the contract?
It depends on the contracted length of stay. There is no penalty for a 6-month contract, but the discounted amount would incur the penalty if you signed a 12-month contract with a discount.